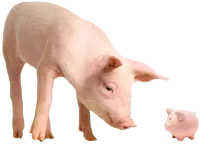 1. Payment is expected when services are rendered. In order to focus on our patients' needs, customer service and minimizing costs, we do not bill.

2. We accept debit cards, credit cards (Visa, Mastercard, American Express) and cash. All cards must be signed by the owner of the card.

Financing
1. When unexpected illness strikes a pet, unexpected expense strikes as well. Sturgeon Animal Hospital understands this and is able to make some special arrangements through the Petcard.ca program. It takes just 5 minutes to complete an application and will allow you to break down your payment into monthly installments. You can either apply at our hospital, where we'll call in your application over the phone for immediate approval, or apply yourself online at: www.petcard.ca.

Insurance For Your Pets
Another popular option for your family and pet is insurance coverage. To learn more, please visit the following pet insurance websites . . .
Trupanion - Our love of cats and dogs is why we provide comprehensive coverage for pets and strive to offer an exceptional insurance experience for pet owners. We can approve and pay bills directly to select veterinary hospitals within minutes, our customer care team is available to assist 24/7, and we have trained veterinary professionals working throughout our company to help us better understand the medical issues pets face. Because of these unique offerings, we consider our self a step above traditional pet insurance and prefer to be known as medical insurance for cats and dogs. Providing 90% reimbursement with no payout limits and life long coverage from birth! No matter what you choose to call us, rest assured that our policy has what it takes to help protect your pet.

PetSecure - Pet insurance allows you to make sure your pets receive the medical care they deserve, without jeopardizing your family's savings. It's as easy as taking your pet to the vet clinic and sending us a claim for your expenses. With Petsecure, you can rest easy knowing 80% of your pet's bill will be covered in case of accident or illness. It's a simple, effective way to take the financial stress away during those difficult times. Check out our comprehensive plans, which take care of your veterinary costs for accidents, illnesses, and even dental care.